Empowering Beliefs for Creating a Positive Mindset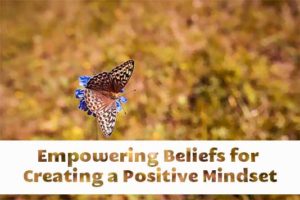 Part of my mission for Spirit Infused Leadership (the blog and school) is to help others reach their highest potential. This quest will continue throughout our life for as we reach one level, we must strive to reach the next one. If we aren't growing we're declining. And that's not good for us or the world. We must all create our best selves and best life to see a better future for ourselves and our kids.
Here are a few beliefs that will empower your continued growth.
---
Commit to never ending improvement.We can achieve incredible results when you put our mind to it. Get excited and commit reaching your highest potential (at every level).
Count your blessings. If you haven't yet done so, make a list of everything that you have to be grateful for. Remember to include even seemingly inconsequential things, like a warm jacket or clear skies. Read through your list daily and add anything new may have blessed you today. By going over how rich we already are, we invite more into our lives.
Dream big. Expand your bucket list. By creating demanding, but attainable goals, we'll have adventures to look forward to each day.
Embrace change. Life is but a series of changes. Focus on the present moment while preparing to adapt to any circumstances that your way.
Learn from your mistakes. Setbacks can be a blessing if we focus on the lessons that they contain. Messing up one sale can teach you how to successfully close the next one.
Search for meaning in adversity. Tough times can be the most rewarding phase of anyone's life. Know that you can emerge from any challenge with greater wisdom, courage, and strength. Think about the obstacles you've already overcome and remind yourself that you can handle whatever comes your way.

Practice forgiveness. Lighten your load by letting go of any bitterness or resentment you're holding onto from the past. Set reasonable boundaries while responding to others with compassion when they disappoint you. Forgive yourself too for any failings or mistakes you feel you've made.

Give generously. Sharing your blessings makes you more powerful and happy. Volunteer in your community. Greet each person you meet today with kindness. Buy donuts for your co-workers or send a thank you card to a customer.

By harvesting these beliefs, you'll find yourself doing more each day…. giving more and not settling for less than you can be. This can only lead to lifelong success both personally and professionally.
To your success!