Dealing with Stress After a Layoff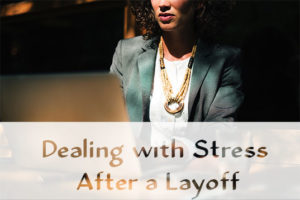 Even in 2017 the economy is still in flux. Layoffs aren't things of the past. Depending on the industry or your company's profitability, you may find yourself in the unfortunate position of being laid off. If this happens, you may experience feelings of stress, anger, insecurity, depression or fear.  I understand what you are going through. I have been laid off a couple of times myself and the feelings can be overwhelming.
You may find yourself wondering why you and not someone else? Or you may doubt you can find another job which pays what you're worth with the title you deserve. You may not know how to face each day of surfing the web applying for jobs or calling colleagues to see if they know of any openings. I get it. You're not sure how to handle the empty days ahead when you were so used to contributing to society and earning a living.
I understand how challenging this can be. Trust me. I've been through it a few times myself. I didn't ever want to face it again after the first time, but life has a funny way of happening without my permission.
So how do I survive and even thrive during these unstructured times? Here's how I've made it through. I can offer this now that I will be starting a new job soon, one that will allow me to provide for my family and allow me to create meaningful courses for aspiring women leaders and entrepreneurs.
Here's my recipe for thriving during a layoff.
Design a new future.  Let's face it. Getting laid off is one of the most negative things that may ever happen in your life. But it's not the end of your life. What if you considered that this is your chance to reimagine your future? Maybe you're in a field that isn't in decline or faces continual flux (i.e. construction, real estate, etc.). Now's the time to dream about what could be. Consider taking one or more career/personality tests online. The Employment Development Department (EDD) has a few. The career site, Monster, has a list of the best free career assessment tools on their site. Once you've determined your best options, you may find you need to go back to college, take training classes at a local vocational center, or take some online courses. Either way, your new future is waiting for you.
Apply for unemployment.  Take care of your unemployment right away.  Depending on the state you live in, there may be waiting periods before you can apply. Find out what the process and waiting times are right away (before your  last day).  File as soon as you are able. Knowing you will have some income will help you maintain a positive outlook during this stressful time.   It won't be enough to support you indefinitely, but at least you know there will be some money coming in.
Minimize expenses.  You may be tempted to put off cutting expenses, but you already know that your unemployment check will be less than what you were making.   Don't wait to reduce your spending until your savings is gone. If you start now, you'll be much less stressed if it takes more than a month or two to find a job.  Look for ways to reduce the cost of your phone, internet, or TV. We did away with our home phone since we have cell phones. By doing this and changing over our TV to Sling, we were able to save over $100 per month. We also started actually using coupons for example, by signing up for Cartwheel I see between 5% to 25% savings on various items when I shop at Target. I also quit buying on impulse. I double check the pantry for recipe items or simplify what I make for dinner. By making small changes, it helped to minimize how much savings we used.
Create a Schedule. Spending 8 to 10 hours a day surfing the net for jobs or wandering the streets looking at help wanted signs is a sure way to burn out and become depressed. By filling your day with other activities it will help you feel both accomplished and positive about the future. Here's a few items I worked in to my day:
Create a side hustle or start a new hobby. I have always wanted to start a women's center where I can coach and train women to reach their highest potential. Instead of creating one out of brick and mortar, I researched starting an online school and website. By doing so, I have been able to use my professional expertise while learning new skills. When I was laid off prior, I took time every day to scrapbook and do paper crafting. Both my side gig and my hobbies make me feel a sense of accomplishment and contribution. It helps me to keep going when I get discouraged in my job search.
Exercise regularly. Many studies have shown that regular exercise helps reduce stress and maintain your health. By committing to working out at least 3 to 5 days a week, I was able to relieve stress and continue on my personal quest of getting healthy. This is a practice I will continue once I start my new job. Stress never really leaves, it just transforms as I'll still have challenges to face in my new role.
Volunteer somewhere. By volunteering to help at my kids' school, I was able to help with their marketing efforts, working on committees, and assisting in creating materials for parents. This gave me a place to go and allowed me to feel connected to others in a more deep and meaningful way. If you haven't volunteered in a while, think about a cause you care about. Hospitals, homeless shelters, the Library bookstore, schools, and many more nonprofits need the help of volunteers. Plus it feels good to do something for others.
Join a Networking or Industry Association. By getting connected to others in your industry, you'll hone your skills and make contacts who can support your search. Even if all you do is attend online meetings or events, you'll be developing yourself and adding value to your resume.
Learn something. This piggybacks on the idea that a new future awaits. Even though I knew I wanted to stay in the Learning and Development industry, I still took a ton of online courses. Some of the courses were just refreshers, but others allowed me to grow my skills in using various software and in learning new concepts.
Hopefully, these tips help you as they did me. I can't say I didn't have bad days when I cried and felt sorry for myself. I totally did. Luckily, I have a great support system in my husband, friends, and kids who reminded me that my skills, experience, and prior successes will eventually land me a great job. Don't be too proud to let people know when you are down. But don't stay there either.
If you find yourself struggling, come up with a plan and work the plan. Take a few hours every day to look for work and create a schedule of other meaningful tasks. This will help you keep a positive attitude even through one of life's tough lessons.
Now it's your turn….If you've experienced a layoff, what did you do to get through it? What advice can you give to others experiencing it for the first time?